European import
the working Black Beauty
affectionately called "JAROD"

111 pounds of pure muscle solid black with excellent conformation

Jarod awarded "V" excellent at May 5th & 6th '01
FCI conformation shows, now CACIB titled.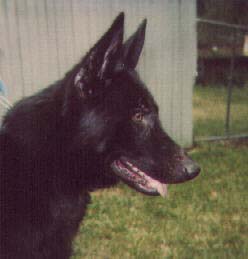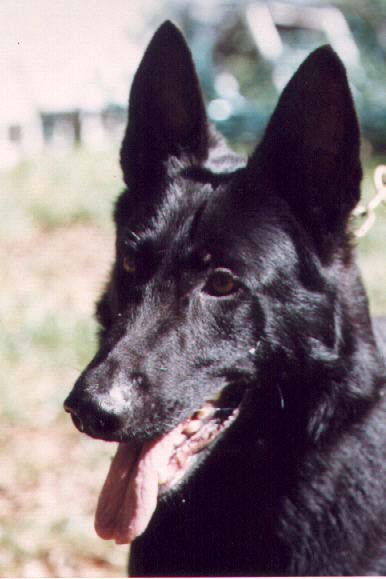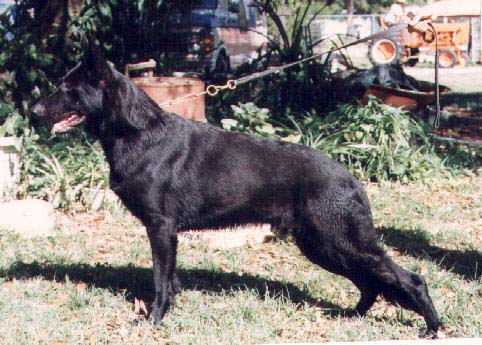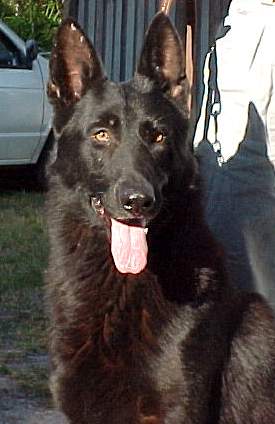 Jarod is a large, very strong, very type and expressive solid black, muscular, excellent lay-back in the withers, good structural proportions, balanced chest proportions, excellent front and rear angulation, straight front, correct gaiting pattern, powerful, far outreaching gait with good overall firmness, very good topline, outstanding rear movement with completely stable back while in motion, very good male characteristics, sure temperament, hardness, courage and fighting drive pronounced. Recommended for bitches to improve overall body conformation with balance plus muscle tone and to improve pigment.
Click here to view Jarod's Pedigree
View Jarod's all black son, THUNDER, with the kids on Halloween day.
BACK TO ADULT DOGS FOR SALE
BACK TO PUPS FOR SALE
BACK TO STUD SERVICE
BACK TO TRAINING PAGE
BACK TO GOOD INFORMATION PAGE
BACK TO HOME PAGE