GERMAN SHEPHERD DOGS ... GERMAN SHEPHERD DOGS


a Florida limited liability company
QUALITY TITLED GERMAN SHEPHERDS
18221 PALM CREEK DR.
N. FORT MYERS, FLORIDA 33917

Lee County, Fort Myers, Florida must be and is the exclusive venue
our e-mail addresses:
vomkatzenblut@aol.com for general questions, inquiries and comments
katzenblut@aol.com mail for Shirley
vomkatzenblut@aol.com mail for Elly

If you need an instant response, please call
click here for directions to our home... absolutely by appointment only

Phone: (239) 543-2252 or 543-6378 24 hour fax: (239) 543-3647
Sarasota, Fl. line: (941)554-7434 Miami, FL. line: (305)907-1412
West Palm Beach, FL line: (561) 249- 4626 Naples, FL line: (239) 217-0665

Going Green is Easy and Saves The Earth plus Saves You Money
ALSO FLORIDA EAST COAST & TAMPA BAY AREA LOCATION
PLUS MANY QUALITY SHEPHERDS IN PUERTO RICO
for the health and safety of the people and animals, there is
NO SMOKING ANYWHERE ON THE PREMISES.... no exceptions
thank you for your compliance.
click here for German / Deutsch this area is under construction

Educational information links
click here for main Education Content Page
***Check out the newest additions to our web site ***
Let me start off by telling you that we are not one of those outfits that has just gotten into the dog world. Vom Katzenblut Shepherds has been breeding, showing and working with German Shepherds for over forty years now. We started in Miami, Florida in 1958.

Becoming acquainted with our experiences will give you a better idea of who we are; this information can be found under the Introduction section. There are a lot of people there who talk good but don't do anything other than sell whatever their dogs produce, and they really don't know what was produced. While you don't know us personally yet, hopefully, by the time you finish reading this, you will have an idea of how we think, our selection and evaluation procedures, kennel operations, and the questions to ask yourself before purchasing the newest member of your family.
We are a full time German Shepherd kennel specializing in the higher quality specimens of both the American conformation and the European Schutzhund with conformation which possesses the combination of hardness for true police work and high prey / play drive to excel in detection work. Custom importing is available. Our American bred dogs contain the work characteristics with protective instincts. We provide in-board creative training techniques and behavior modification in our concrete kennel building, which has central heat and air, plus septic tanks and exterior open air concrete runs. Our full time staff is here to answer any questions or concerns you may have regarding our dogs or training.

In our quest to match the right dog with the right people, listed below are the items we instruct people to think about before purchasing a German Shepherd. We want to accomplish an in-depth match between family and dog.

Questions to ask yourself:

American bred or import lines; sex preference; body style preference (top line angulated or straight--if angulated, then how steep); head shape (boxy or triangle); color preferences; any particular special attributes for any special future training (personal protection, schutzhund, SAR, conformation, narcotics, patrol, etc.); the ages of any children in the family, other dogs in the family (i.e., what sex and age is the alpha dog), time frame for receiving a dog (are you really set up now to get one: fenced yard, time to play and train the dog on a daily basis), what level of energy is appropriate for your family, etc.

If someone says they are wanting a titled dog, then we ask the following:

Any particular colors? Age range? Any particular lines? Titled through DVG or USA, or does it matter? Titled in America acceptable or must be in Europe? What type of personality? Are you wanting a higher defense dog or a sport dog? What is your family composition (children, other dogs, etc.)? Will dog live inside and must be house broken? Must it be a German SCH title, or can it be a title from one of the other countries (Hungarian IPO 1 or ZVV from Chez Republic or SVV from Slovakia)? Do you realize the other countries have the equivalent of the SCH? Must the dog be kore rated and if so, what is acceptable? Will you purchase if the dog is in Europe and not in the States yet?

Before a conscientious person can send you what you are really wanting, they need to know the above. Otherwise, they are just wanting to unload what they have and don't care if it meets your needs or not. We have a good reputation for providing what is wanted, so if we do not have it available, we will import the dog for you. Once we know your answers and desires, then we can carefully select the dog that should match your family composition and security needs.

We have European imported adults, titled adults and imported puppies, plus some that were born in the states from imported parents. The blood lines of these dogs are internationally famous: direct Kirschental parents, plus Ulk von Arlett, Visium vom Arminium, Jeck von Noricum, Uran, Fedor, Quando, and a host of others that go on and on. These dogs have outstanding temperaments and excellent protection drives, yet social, a very important factor to us. Once I know exact specifics on what you are wanting then I can concentrate on the particular dog(s) I feel match your desires.
I realize that there are very few people who want to actually get involved in the show ring aspect of the conformation dog or the trialing of schutzhund work, but most people do not realize or understand that what the judge in the show ring is looking for is exactly what they, as the future owners of a dog, want to find in a dog. Also; by choosing a pup from a litter that has the better graded qualities, you are less likely to have problems in the future. A well balanced dog should have less structural or medical problems as the years go by and have a greater longevity. Keeping these factors in mind is why we are wanting that good structure in any dog, even if it is not going to be placed in a show or working home. I hope you can understand why conscientious breeders want to have the public become a more knowledgeable consumer, as they can then appreciate the progeny the breeders are creating and they, the buyers, will be receiving. If you want something that is going to last then it must be made that way to begin with or you will be hounded with constant medical problems. Repairing or fixing can get awfully expensive. In short, we strive for dogs that are sound in mind and body, and that is why our kennel slogan is: QUALITY, NOT COMPROMISE

We train all hours of the day and night. If you do not get a live person when calling, please leave a message and we will call you back as soon as possible. After May first 2002, the area code for our area has changing to 239. From 9am-5pm there are people always in the office.

RETURN TO TOP OF HOME PAGE

Breeder's Experiences:

The old saying is "The proof is in the pudding." Since the inception of Vom Katzenblut Shepherds in 1958, I have worked with the German Shepherd breed for over forty years during which time I have taught obedience, AKC conformation showing, schutzhund, cadaver, search and rescue, police dog patrol work, and other various detection work. View the CERTIFICATES OF ACCOMPLISHMENTS for our dogs. Our goal is to breed smart dogs with intelligence to think on their own without having to be told each move. View various NEWSPAPER ARTICLES about our dogs and various CERTIFICATES OF APPRECIATION from various governments.

I have graded numerous dogs for years and feel that a dog should be more than just an animal to lay around the house. We especially need to know what to be looking for if the dog is going to be a patrol dog and be cross trained. One must be able to spot both the attributes and deficiencies in a dog in order to be able to assist that particular dog in progressing forward. The German Shepherds that I have worked in schutzhund, can live in a family atmosphere and yet do sheep herding. I have several dogs on police departments throughout the USA. I have been President of the local DVG Schutzhund club: SW Florida Schutzhund Club, Inc. Yes, I know there is a big difference between training for schutzhund and for the real world of patrol work

My husband (Chad) and I earnestly feel that education is an ongoing process for both the dog and the person. Not only should a truly good breeder know how to whelp the puppies but also learn about nutrition, medical and disaster skills. Having been a member of a search and rescue unit, there is much more training for the handler then most would imagine. Take a moment to review some of the certificates we have. CERTIFICATE LIST

Theory of Breeding:

I hope you have a good pair of eyes to be able to read all of this and care enough to take the time to read it.. This way, you get to "crawl inside my head" as to my thoughts. The dog kingdom has become very competitive and one must stay abreast of the training and the breeding to keep the good temperament. Too many people only look at body size and forget about temperament and loyalty. What I strive for is an animal that appears strong and agile, alert at first impression, coupled with intelligence to make decisions. Additionally, he should possess a fearless attitude expressing his self-confidence, and protective, rather than aggressive for no reason. The body itself should be true to form so as to allow the animal ease of movement, possess dark eyes with full correct scissors bite in the mouth, strong neck, noble looking head, and should move with an outreaching smooth flying trot. See the dog's (named Cello) picture at the end of the page for what attributes a real German Shepherd Dog should have.

You must be able to "read" an animal in order to understand his capabilities and what motivates him. Too many people only know how to throw two dogs together and let the mother dog have a litter of puppies, and then that person calls himself a "breeder". To truly be a professional breeder, you need to understand the heritage and what problems or attributes the different bloodlines represent and will carry forward into their progeny. After studying and comprehending this, then you selectively choose a mate for your bitch only after understanding what chromosome factors contribute to which gene pool for each feature of the dog. Even after the female dog has pups, you then are not a breeder in my opinion unless you are able to grade these pups by their attitude characteristics, their body form and personality in order to concentrate on each individual dog's best asset and to properly place that pup in the correct new home. Being a breeder of this type, I grade the body styles and rate the dog's personalities along with their motivational drives: prey and play.

Most definitely, there are people out there who call themselves breeders and don't even know that dogs work out of different motivational drives. All these people are into is creating puppies to sell and don't have the first idea of what constitutes correct breeding. Too often, I get phone calls from someone who has a female dog and the only reason they want to breed their dog is to have a litter to sell. If you ask them the lineage of their bitch they don't know it because they won't even spend the money to order a pedigree. I have turned down far more requests to breed than I have accepted. If the bitch is not of superior breeding quality and if the owner of the bitch doesn't desire to improve upon the breeding and they are only price shopping studs so they will make money in the long run, than I will deny the breeding.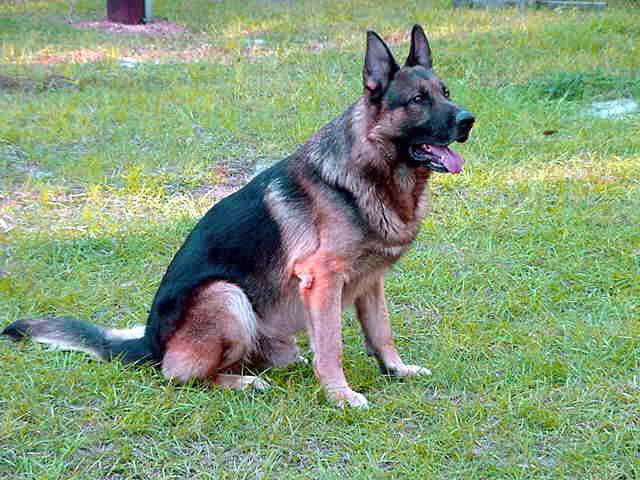 One of our imported titled studs: CELLO SVV 1, CACIB
BACK TO ADULT DOGS FOR SALE
BACK TO PUPS FOR SALE
BACK TO STUD SERVICE
BACK TO TRAINING PAGE
BACK TO GOOD INFORMATION PAGE